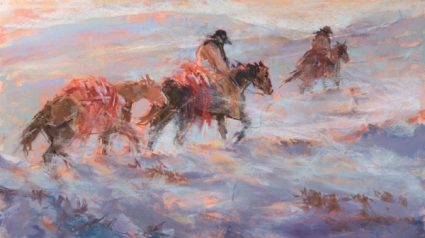 FriendsOne week after the first call for rescue, Brigham Young drove out on the rescue trail himself, with Arza Hinckley as his teamster. Upon reaching Big Canyon Creek, Brigham became too ill to travel and Arza had to return him to Salt Lake when he was finally feeling somewhat better.
On Sunday, October 26,1856, Brigham Young issued yet another of several calls for rescue from the public pulpit. Many responded as quickly as possible, but Ephraim K. Hanks had already been called by a voice during the night to go and help the handcart people. He was on his way alone the next day, meeting other groups of rescuers already on the road.
On November 2, Ephraim passed the Willie Handcart Company at Ft. Bridger and rendered them assistance. As there were already enough rescuers to see the Willie Co. safely to Salt Lake City, Ephraim and others pushed on to render assistance to the companies further back on the trail. A few days later, Ephraim reached the South Pass rescue supply camp. He stayed there during a "terrific storm" for three days with Reddick Allred, who was in charge of the camp.
This same cold and stormy weather was causing the Martin Handcart Company to seek shelter in a cove near Devil's Gate where the Hodgett and Hunt Wagon Companies were busy unloading their wagons with the help of the rescuers already with them. Many of the rescuers with Ephraim near South Pass had decided to turn back to Salt Lake. They had rendered assistance to the Willie Company, and assumed that the risk was too great to press on, and that the rear companies had either wintered over somewhere or perished in the cold.
At this time, rescuers Arza Hinckley and Dan Johnson arrived with two wagons and tried to convince these men not to turn back. Arza said to them, "I will make a proposition with you. There is a good place to camp just a short distance from here. You go on and camp and wait until you hear about the carts, and Dan and I will go on to find the carts." When asked why he thought he could find the carts when they hadn't been able to, he replied, "Brigham Young sent me out to find the handcart folks and I will find them or give my life trying to find them." Ephraim was reminded of the promise he had made and joined with Arza and Dan the next day. Arza was grateful to see him and said he had hoped that Ephraim would follow them.
The mules pulling Dan's wagon soon became sick and one died. It was decided to hitch Ephraim's horses to the wagon and Dan returned with his mules to the shelter of Ft. Bridger. Arza and Ephraim pushed on together. On November 10, Arza and Ephraim had stopped near Ice Springs Bench. Seeing a large herd of buffalo nearby, Ephraim went hunting and was able to kill a buffalo, dress and load the meat on his horses. The next day he killed another one. It was now nearing nightfall, but before making it back to camp, Ephraim spotted the Martin Handcart Company and was able to deliver the life-sustaining meat to them and their previous rescuers who were now surviving on scant rations with them. Ephraim's account states: "A prophecy had been made by one of the brethren that the company should feast on buffalo meat when their provisions might run short; my arrival in their camp, loaded with meat, was the beginning of the fulfillment of that prediction."
Arza's account states "We met the handcart folks at Ice Springs on the Sweetwater River. From there on into Salt Lake City, Eph Hanks, one of my Battalion chums, and I spent much of our time in camp in administering to the sick. Ephraim was a man of great faith." James G. Bleak, Martin Co., felt such gratitude for Arza that at all later meetings in their lives, James would put his arms around Arza and say, "My Savior."
Arza's encouragement to Ephraim to continue on seems to be the catalyst that rejuvenated Ephraim's determination to keep his promise to help the handcart people. Later, in a letter to Wilford Woodruff, while serving a mission among the Lamanites in Arizona, Arza wrote: "As to myself, it would be better as a traveling missionary, than remaining with a tribe . . . I believe, as such, with such a man as Ephraim Hanks, if we were as well united in the faith and feelings as we were when we went out to meet the handcart company we would be willing [to accomplish the work]."