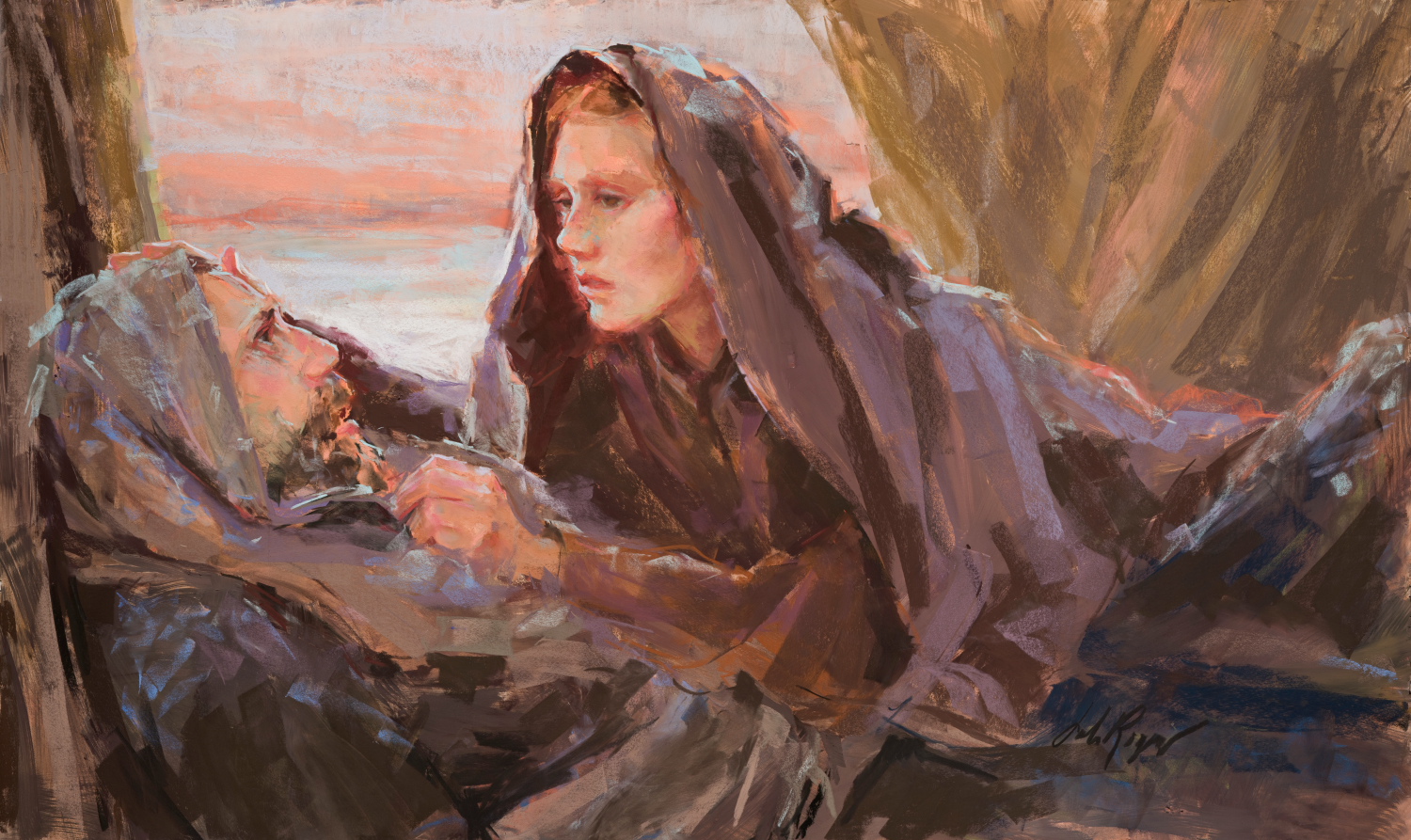 Archibald McPhail emigrated from Scotland to America with his wife and two daughters in 1856. Their overland travel with the Willie Handcart Company also meant sharing a tent which housed about 20 fellow emigrants. Archibald was the captain of this group which included two women who constantly lagged behind the others.
After struggling with his handcart through a blizzard across Rocky Ridge, Archibald reached the camp at Rock Creek Hollow and found that only one of these women had arrived at camp. It was late at night when Archibald went back on the trail and found the missing woman on the other side of a frozen creek. He tried to convince her to come across the ice to him but she refused. She felt she was dying anyway and did not want to risk breaking through the ice. Archibald finally crossed the creek to get her, picked her up and was in the process of bringing her across when the ice broke and Archibald fell through to his waist. With his shoes and clothing frozen to his strained body, Archibald was somehow able to get his charge back to camp, arriving very late at night.
"By the time they returned to camp [Archibald's] clothing was frozen on him and he was taking heavy chills. The air was cold and wet and the men were so weak and hungry they could not go in search of dry wood to make a fire; so without anything warm to eat or drink, he was placed in a cold bed [under a handcart] . . . Henrietta [his 13-year-old daughter] sat by his bed brushing the snow from his face . . ." (From Henrietta's biography by her daughter, Rachel Eckersell Minson.)
Archibald somehow survived for two more weeks and on the night of November 6, 1856, his wife, Jane, sat lovingly with his head on her knee and prayed that a small piece of tallow candle she had burning might last until Archibald passed away. Her prayer was answered, for the light of the candle and the life of her husband went out at the same moment. Archibald had made the ultimate sacrifice and brought his loved ones within 3 days of their goal. His family and the other woman he had rescued survived the journey.
Jane worked hard in Zion, cleaning schools and practicing obstetrics for more than 30 years. In later life she stated that she would gladly go through all her trials again for the sake of the Gospel.
The same faithfulness exhibited by Archibald and Jane was later reflected in an incident in Henrietta's life. Her son, Archibald, and his wife and some of their children fell victims to a criminal act in which they all died. Rachel E. Minson wrote:
In Henrietta's great sorrow she was asked to drink a cup of tea to quiet her nerves but she refused by saying, 'I must depend on the Lord for help and not on that which He has forbidden.' The Lord did bless her. She was privileged to live to see her children enjoy that which she had sacrificed so much for.