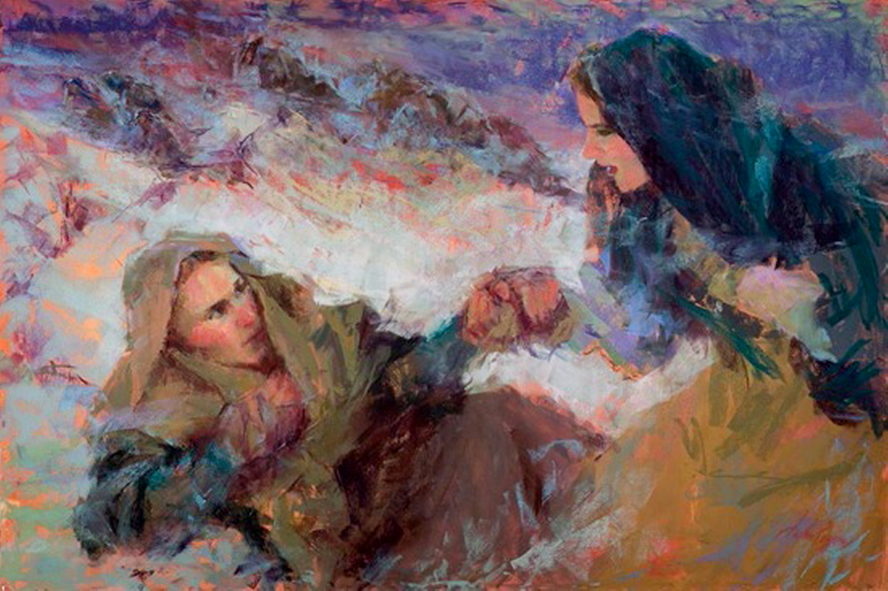 Emily and Julia Hill were 12 and 15 years old, respectively, when a cousin came to visit their prosperous home in England, sharing news of the Gospel of Jesus Christ restored to the earth in its purity. Julia was curious and Emily wanted to be baptized right away. Her parents would not give their permission.
Some time later, Brother John Halliday visited the Hill home and "bore such a powerful testimony" that Julia also requested permission for baptism, which her parents again denied. Julia moved to another town to work as an apprentice to a milliner and Emily was soon permitted to join her. The girls were baptized when Emily was 16 and Julia 19, the only members of their family of 11 children to do so. Four years later they accepted the call to gather to Zion in the Rocky Mountains of Utah.
They sailed to America in 1856 aboard the Thornton and became members of the Willie Handcart Company in Iowa City, Iowa. These very pretty single girls were given inducements from residents to cut their journey short across the 300 miles of trail through Iowa. Weeks later in their journey, soldiers at Ft. Laramie also tried to persuade the young women to stay, but Emily and Julia persevered despite the shortened rations and coming winter storms.
The girls had volunteered to assist a young new widow, Martha Campkin, with her five small children. It was the only way Captain Willie would allow Martha to join the company. Martha and her little ones all arrived safely in the Valley of their hopes. When Julia's health broke down on the trail, Emily and friends pulled her in the handcart. In a blizzard on October 23, 1856, Julia collapsed from hunger and exhaustion at the summit of Rocky Ridge. It was Emily who lifted her from the snow and got her going again. Both girls survived and raised large families.
Brother Halliday had given Emily a Priesthood blessing before she left England in which he prophesied "she should write in prose and in verse and thereby comfort the hearts of thousands." Emily's life fulfilled this promise and she was hailed by Orson F. Whitney as the "possessor of a poetic as well as a practical mind . . . Her busy pen has brought forth many meritorious productions." Emily is best recognized today as the author of the words to "As Sisters in Zion." (See hymn 309, "Hymns of The Church of Jesus Christ of Latter-day Saints", music by Janice Kapp Perry.) Originally 10 stanzas long and titled, "Song of the Sisters of the Female Relief Society," the words were sung to the tune of the hymn "Hail to the Brightness of Zion's Glad Morning (see hymn 42 in same hymnbook)."
Having left a situation of wealth, education and privilege in England for the sake of their newly embraced faith, one verse from Emily's original hymn reflects the lifelong efforts of both of the Hill sisters:
The Lord hath established the cities of Zion, The poor of His people are trusting in Him, He makes us a source for His poor to rely on; Oh! Shall we not brighten the eyes that are dim.